Our Jazz Hymnal Companion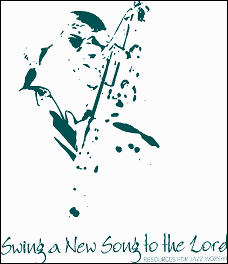 Swing a New Song to the Lord: Resources for Jazz Worship

This fabulous jazz "hymnal" is only available here, as a PDF file. The 173-page e-book includes nearly sixty settings of music. Included are twenty-six jazz settings of public domain hymns, ten psalm settings, nine additional worship songs, and fourteen pieces of worship music. Also included are a few sample jazz worship services, some musical prayers, and a few surprises. Those who purchase the e-book are given permission for one-time duplication of all the material for worship services, churches, and religious gatherings.
The price of the book is $45. It is instantly available through the link below. To order, click here.
For a PDF listing of the Table of Contents, click here.
PLEASE NOTE - The book is only available as an electronic PDF file.
We take our music to a great venue in Norfolk, With Tony Marino on bass, Tyler Dempsey on drums, Jeff Stockham on trumpet, Mike Carbone on sax, and Bill Carter on piano.
We present our jazz requiem at a beautiful venue in Williamsburg. With Bill on piano, Tony Marino on bass, Tyler Dempsey on drums, Mike Carbone on saxophone, and Jeff Stockham on horns.
Get the Jazz Hymnal and DVD